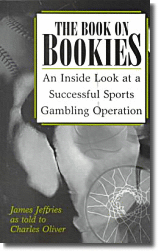 The Book On Bookies
An Inside Look at a Successful Sports Gambling Operation
(Paperback)
by James Jeffries; Charles Oliver
In Stock: Ships within 2-3 days.
Retail Price: $18.00
Our Price: $13.41



If you have ever wondered why the bookie always wins and you always lose, or how your bookie adjusts point spreads and in which direction, The Book on Bookies is for you. In it, you'll find all the answers you need to come out a winner, no matter what you bet on - football, baseball, horse racing, boxing, golf or any other sport. Go behind the scenes with J.J. to see how a professional sports book is set up and run. Find out all about point spreads, straight bets, half-points, parlays, exactas, teasers, exotics, sweeps money lines - everything you need to know to wager wisely . . . or to become a bookie!