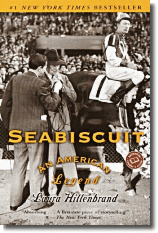 Seabiscuit
An American Legend
(Paperback)
by Laura Hillenbrand
In Stock: Usually ships within 24 hours.

Retail Price: $15.95
Our Price: $9.57




Seabiscuit was an unlikely champion. For two years he floundered at the lowest level of racing, before his dormant talent was discovered by three men. One was Tom Smith, an arthritic old mustang breaker. The second was Red Pollard, a half-blind jockey. The third was Charles Howard, a former bicycle repairman who made a fortune by introducing the automobile to the American West. Bought for a bargain-basement price by Howard and rehabilitated by Smith and Pollard, Seabiscuit overcame a phenomenal run of bad fortune to become one of the most spectacular, charismatic performers in the history of sports.
Laura Hillenbrand unfolds the spellbinding story of this marvelous animal in a riveting tale of grit, grace, luck, and an underdog's stubborn determination. "Seabiscuit" is an American classic.