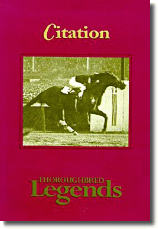 Citation
Thoroughbred Legends
(Hardcover)
by Pauhla Smith; Pohla Smith
In Stock: Ships within 2-3 days.
Retail Price: $24.95
Our Price: $18.59



Racing fans and horse lovers alike will enjoy this biography of the 1948 Triple Crown winner and record-setter Citation. This book looks at the colt's earliest training, his rise to prominence as a three-year-old, his triumphant return to racing after a leg injury, and his success as Thoroughbred racing's first millionaire with an unprecedented 16 straight victories. The story of Citation is also a history of Calumet Farm, the famed breeding and racing operation that dominated American racing during the 1940s. Citations owner, Warren Wright, the father-and-son training team of Ben and H. A. (Jimmy) Jones, and legendary jockey Eddie Arcaro figure prominently in the story.