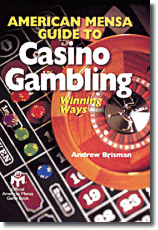 Winning Ways
(Paperback)
by Andrew Brisman
In Stock: Usually ships within 24 hours.
Retail Price: $17.95
Our Price: $13.37

Walk away from every casino as a winner! Take it from American Mensa, the society for people with high IQs--you don't have to be a genius to triumph at the tables. It's all about making the right moves. Here's the inside line on the games and bets that give the best advantage. Do you know whether to split a pair of aces in blackjack, which slot machines carry the worst payback for the player, why losses are more significant at video than "live" keno, what is the bread-and-butter bet in craps for most players, how to tell a good video poker game from a bad one, and if bluffing in poker is as successful as the experts would have you believe? Beat the bank by understanding odds and probability, "the house edge," money management, and the psychology of gambling. Stay ahead of the crowd and watch your chips pile up!