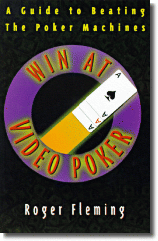 Win at Video Poker
A Guide to Beating the Poker Machines
(Paperback)
by Roger Fleming
In Stock: Ships within 2-3 days.

Retail Price: $12.00
Our Price: $10.14




The slot machine is ubiquitous from Las Vegas to Monte Carlo and at all points in between. Starting as a simple machine with revolving bands featuring cherries and lemons, the slot has evolved into the video poker machine, which is gaining widespread popularity. The challenge to the player is to match a modicum of skill with luck in order to garner the rewards.
Win at Video Poker offers -- basic rules on money management -- facts and fallacies -- when to redeal -- suggestions for progressive play -- how a big jackpot can change the odds -- advice on winning competitions and buy-ins -- suggestions for advanced play -- when to discard a possible flush for a pair and win anyway -- a reference section crammed with invaluable facts and figures.
Win at Video Poker will help any player to stop a one-way exodus of coins -- and start collecting.