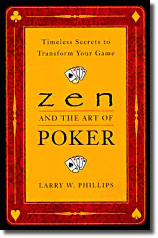 Zen and the Art of Poker
Timeless Secrets to Transform Your Game
(Paperback)
by Larry W. Phillips
In Stock: Usually ships within 24 hours.
Retail Price: $12.95
Our Price: $10.94




Inside the intriguing world of poker lies a fascinating exercise in strategy and extreme concentration -- many of the same principles that underpin the one-thousand-year-old philosophy of Zen spirituality. Zen and the Art of Poker is the first book to apply Zen theories to America's most popular card game, presenting tips that readers can use to enhance their game. Among the more than one hundred rules that comprise this book, readers will learn to:
-- Make peace with folding
-- Use inaction as a weapon
-- Make patience a central pillar of their strategy
-- Pick their times of confrontation
Using a concise and spare style, in the tradition of Zen practices and rituals, Zen and the Art of Poker traces a parallel track connecting the two disciplines by giving comments and inspirational examples from the ancient Zen masters to the poker masters of today.